Discover more from 4Thoughts
Capital markets and business intelligence for emerging Canadian companies, prepared by 4Front Advisory Inc.
Exro Technologies (EXRO.TO): New Strategic Partner, Trading Trends and Manufacturing Facility Visit
Ticking the boxes off our scorecard in 2023
---
New to the Exro story? Read our Intro piece here:
---
It has been an active couple of weeks on the news front for Exro.  The company has advanced on a couple of fronts that will allow us to check a couple of items off of our 2023 score card.  Investors should also be aware the company is hosting a streaming event on March 1, 2023 (Register Here). Exro continues to expand its partnerships with a couple of key announcements over the past couple of weeks:
Strategic Partnership MoU with European-based Automotive Supplier.  This MoU is Exro's second major strategic partnership (after Linamar).  Unfortunately, the counterparty cannot be disclosed as it is under NDA.  While this may be a bit of a disappointment for investors who would prefer to see a well-recognized name evaluating Exro's technology, we see it as a huge step in the right direction for a few reasons:

This agreement further demonstrates large Automotive Industry suppliers see value in what Exro is bringing to the table.

Phase One of the partnership will validate Exro's L040 800V Coil Driver (its largest size) for applications in truck, bus and off-highway applications.  As a reminder, this product has also been validated by Linamar in its partnership with Exro.

Once the 800V product is validated, it will move to an official Proof of Concept arrangement, which is expected in 3Q2023.  Thus, investors do not have to wait terribly long to see a formal announcement of the name of the counterparty.

Distribution agreement with Greentech Renewables for the Cell Driver Energy Storage System.  Earlier in February, Exro announced an agreement for the company's Cell Driver technologies with one of the largest solar panel distributors in the US.  Additionally, Greentech can expand the Cell Driver into battery charging applications in the Southwestern US.  Initially, Greentech will take some time over the next few months to put an estimate of demand together, then supply Exro with rolling 12- and 24-month forecasts for its Cell Drivers.

Greentech Renewables (www.greentechrenewables.com ) is a well-established subsidiary of Consolidated Electrical Distributors, one of the largest electrical distributors in the US.  With this market presence, we believe this could drive immediate and sustained demand for Exro's Cell Driver product line in one of the largest global markets.  As shown below, Greentech's website highlights the are active in many aspects of solar panel and battery storage applications.

While there were no hard numbers in terms of potential order size, this agreement immediately expands Exro's brand into a massive US marketplace. We continue to believe analyst expectations for Exro's Cell Driver are underestimated.  This could provide ongoing positive revision catalyst potential for revenue forecasts as details from this agreement become more tangible over the course of 2023.
This begs the question…is a corporate split a possibility?
Potentially, but not necessarily. Exro appears to be garnering significant counterparty attention for both its Coil Driver and Cell Driver technologies.  Particularly over the past 12 months, the company has been steadily coming to market with updated indications of interest from potential customers.  The company's manufacturing facility in Calgary, Alberta is slated for 3Q2023 start-up which will allow Exro to move to Revenue Generation mode.  Once this is achieved, it is not unfathomable to see orders for both product lines ramp up, as it will align with timing for key approvals and verification from regulatory bodies and strategic partners.  From our perspective, the Coil Driver is strategically linked to Electric Vehicle (EV) demand, while the Cell Driver is linked to Solar Panel and standalone battery storage demand.  These business lines are arguably quite different and should the potential value not be adequately reflected in the equity valuation, we suspect Exro management could evaluate splitting into two separate entities to maximize value in the market. Often times this is easier said than done, factoring in expanded management, governance and other business related costs.
Updating Exro's Scorecard
In our last post, we rolled out some key catalysts that investors should watch for over 2023.  With the two agreements signed in February, Exro has checked off two of these already.  We look for news on the ongoing financial strategic partner search as one of the bigger catalysts in the near-term. That said, achieving commercial manufacturing in 2023 transitions the company to cash generation, which we continue to believe will open the door to a broader spectrum of investors, who may have been previously unwilling to invest in pre-revenue start-up tech companies.
Trading Trends
Looking at the share performance of EXRO.TO over the last month we see that it approached $3.00 at the beginning of February, touching the upper bound of the current trend channel.  Although the momentum has swung to the negative when looking at the MACD, the PVT (which is an indicator of money flows) remains strong and shows no divergence from price.
As shown in the second chart, the move from $2.00 to $3.00 coincided with a strong surge in trading volume which is a positive sign.  Also apparent is that the recent pullback has happened on light volume which tells us that the price movement is not indicative of overall sentiment.
Site Tour – Getting Closer to Completion
We recently visited Exro's manufacturing facility in Calgary and caught up with management.  Below are some pics we snapped as we toured the plant.  As a reminder, some quick plant stats:
Capacity of 100,000 Coil / Cell Driver units per year per 8 hr shift (300,000 units if run 24 hrs/day)

Fully isolated Clean Room meeting Class 10,000 specifications

Targeting net zero, with solar panels on roof, water conservation and zero waste production

Total cost $13.9M scheduled for start-up in 3Q2023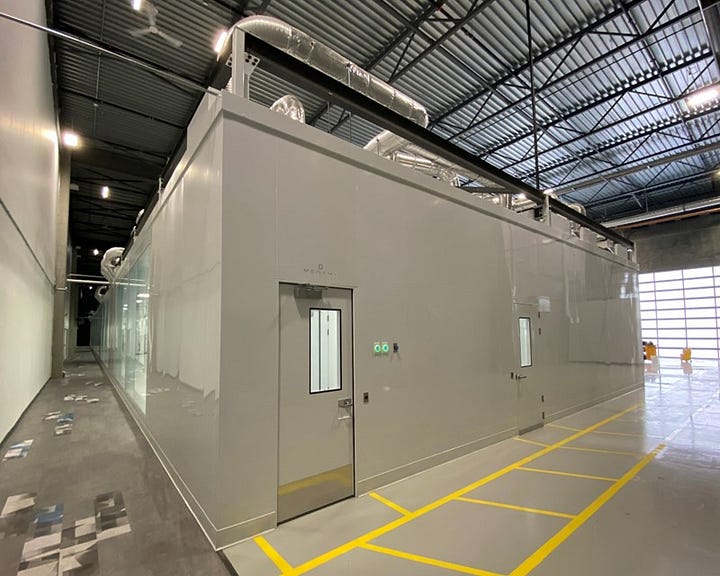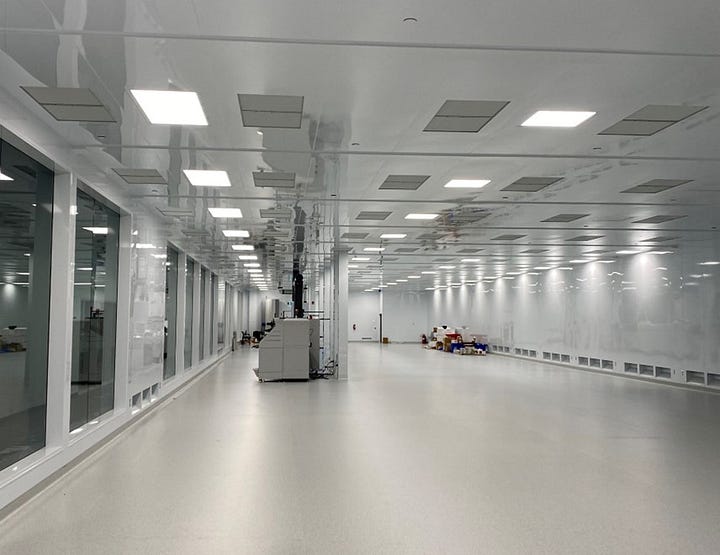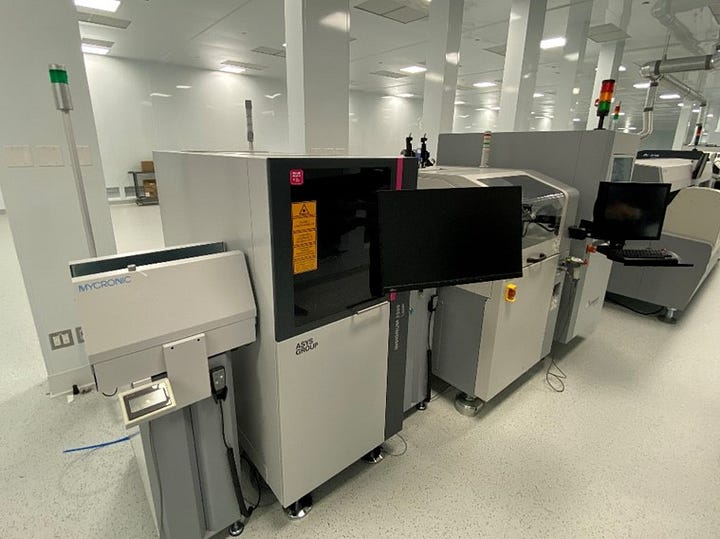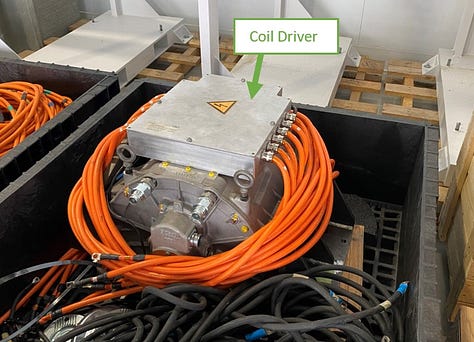 Disclosures
4Front is compensated by Exro for the preparation of these materials. 4Front receives its compensation in cash. 4Front participated in Exro's recent equity raise and is currently a shareholder of the company.
4Front publishes 4Thoughts for the purpose of investor education. All statements presented herein are the sole opinion of 4Front Advisory and/or the individual author. The intent of 4Thoughts is to provide insight and analysis into our clients' businesses, strategies, opportunities, and risks.
4Front Advisory is not an investment advisor, and comments and opinions presented in 4Thoughts should not be interpreted as investment advice. Investors should pursue their own due diligence regarding the merits if any potential investment decisions for companies discussed herein. Investors should seek advice from professional financial advisors before making any investment decisions. 4Front Advisory does not express any opinion with regards to the price of securities of any company may trade at any given time.
Forward estimates, macroeconomic commentary and forward-looking statements are based on assumptions and individual analysis and interpretation and thus are inherently unreliable. Commentary is based of information available as of the time of writing, and other events and externalities may subsequently occur that materially change the interpretation presented.
4Front Advisory does not accept any liability for any direct or indirect loss arising from commentary and opinions provided herein.
This article, and any item we publish or on behalf of our clients and should not be construed as an offer or solicitation to buy or sell products or securities.
Occasionally, reference may be made in our published materials (online commentary, website, presentations) prior articles and opinions we have published. These references may be selective, may reference only a portion of an article or recommendation, and are likely not to be current. Readers acknowledge previously published information and data may not be current and should not be relied upon.